Children
Craig Davis is a master at performing to children and adults alike, firing their imaginations and allowing them to create magic right beside him. His fast-moving and energetic presentation includes amazing magic and unbelievable juggling and even a trained parrot!
The Craig Davis Magic and Juggling Show is an amazing, fun-filled and highly entertaining show packed with audience involvement. Whether for a private party or a large assembly, Craig delivers an experience that his young audience will never forget.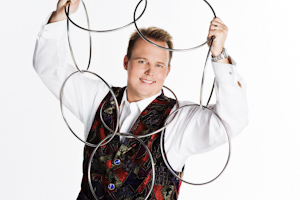 Comments from the Audience
"We wanted an engaging, entertaining, school appropriate show to reward our students for working hard academically and showing good character throughout the year. The Craig Davis show was the absolute right choice for this special event. This high energy show was enjoyed equally by students and staff alike. Craig Davis is very talented and was able to engage students from preschool through sixth grade. He included student and staff participation while incorporating humor, good character traits, and positive motivation. We look forward to inviting Craig Davis to return to our school next year."
Principal,Playa del Rey Elementary
"We have enjoyed our shows immensely!"
Maricopa County Library District
"You made our Summer Reading Club Grand Opening a truly magical celebration. Thank you once again for sharing your exceptional talent and extraordinary enthusiasm with the Tempe Public Library!"
Maricopa County Library District
"OUTSTANDING! This is just one of the comments I heard regarding your performance at the 2005 Sunday on Central. Event Sponsors, colleagues, and participants were thrilled with your show. You are a pleasure to work with and the City of Phoenix looks forward to having you at another event in the future."
Maricopa County Library District
"I can't tell you how many parents and children have remarked on your wonderful performance at the Prescott Public Library. You thoroughly captivated everyone, which spanned a wide age range from children to adults. You truly made our Summer Reading Club party special, which many will remember for years to come. Thank you for a fabulous performance and we hope to have you back soon."
Maricopa County Library District
"Your two performances which combine magic and juggling at the Mesa Public Library were truly outstanding. Both the children and the parents were spellbound. They were entranced with your bird assistant, mesmerized by your sleight of hand, and delighted with your juggling ability. The performances were well paced; you switched from one feat to the next with no hesitation or loss of concentration. Thank you for arriving with plenty of time prior to the start of the program.
"I also appreciate your fresh approach to working with children. You are very natural and relaxed. You definitely seemed to enjoy what you were doing. Thank you again for providing the children of Mesa with a quality program. You were a success, as evidenced by all the magic books checked out following the programs.
I look forward to working with you again."
Maricopa County Library District