Solo
The Craig Davis Comedy, Magic and Juggling Show delivers an amazing, fun-filled and highly entertaining show packed with audience involvement. Fast-moving, energetic, and full of hilarity, will have the audience perched on the edge of their seats!
COMEDY:

Craig Davis' subtle and unassuming wit, combined with the humorous situations he creates on stage, spark uproarious laughter throughout the entire performance.

MAGIC:

Craig entertains using exciting, visual and comical magic. He is a master of the time-honored rings. Beautiful, tropical birds appear, disappear and pass right through a sheet of steel. Throughout the show, Craig pulls many audience members on stage. Any one could be a star, as Craig's blade passes through the neck of a volunteer. Other volunteers will have their thoughts revealed to all! Often, volunteers have their pockets picked or watches stolen, only to have their belongings hysterically restored!

JUGGLING:

Craig entertains with a variety of exceptional juggling feats, including seven balls, five clubs, cigar boxes and even fire torches(if outdoors). Craig takes juggling to the next level, even riding a unicycle blindfolded while juggling swords. Craig stands alone in his ability to balance on a swinging rope while juggling 5 clubs!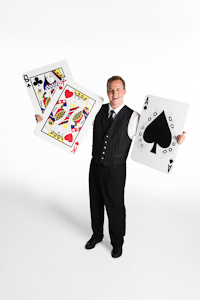 Details
Craig Davis can customize his show to a variety of settings; the following is recommended for the best show possible:
This show is best performed in a minimum area of 16' x 20'.
Set up and tear down times are approximately 30 to 60 minutes and are ideally accomplished before the guests arrive and after they leave.
Sound and lighting are available upon request.
If the audience is large (more than 100 people) a raised stage is recommended.
If riser is unavailable, audience seating is best arranged in a semi-circle or horse-shoe shape.